The Funko POP Rides Harry Potter Hogwarts Express with Hermione is an essential addition to any Harry Potter fan's collection.
This vinyl figure captures the magic of the Hogwarts Express and Hermione Granger, one of the most beloved characters in the series, perfectly.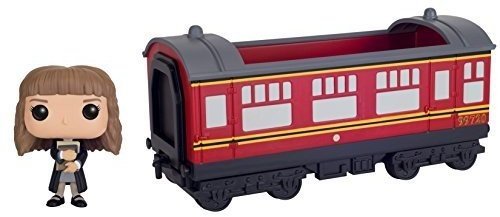 Funko POP Rides Harry Potter Hogwarts Express with Hermione Vinyl Figure
The vinyl figure features Hermione holding a book and looking out of the window of the Hogwarts Express. The attention to detail is remarkable, from the iconic scarlet Hogwarts Express train to Hermione's Gryffindor robes.
It is a truly beautiful piece that captures the spirit of the Harry Potter universe.
The POP Rides line from Funko is known for its highly detailed and accurate representations of popular characters and vehicles from various franchises.
The Hogwarts Express with Hermione is no exception. The figure is made of high-quality vinyl, ensuring its durability and longevity.
The design is also well-balanced, with the train and Hermione sitting securely on the train.
One of the best things about this Funko POP Rides figure is its versatility. It can be displayed on its own or as part of a larger Harry Potter collection.
It also makes for a great gift for any Pop Collector or Harry Potter fan, especially those who love Hermione.
Collecting Funko POP figures has become a popular hobby for many people, and the Harry Potter line is among the most popular.
The Hogwarts Express with Hermione is a standout piece that adds both character and depth to any collection. It is a great way to display your love for the Harry Potter franchise and share it with others.
In conclusion, the Funko POP Rides Harry Potter Hogwarts Express with Hermione is a must-have for any Harry Potter fan or Funko collector.
Its attention to detail, high-quality construction, and versatility make it a standout piece that will be cherished for years to come.
Don't miss out on the opportunity to add this magical vinyl figure to your collection today!
---
Check out the complete Harry Potter Funko Pop List and collect them all or get a Mystery Mini Harry Potter Funko here!
Let's continue our Funko journey and find out Things Every Funko Pop Collector Must Know or let's kickstart your collection with our Funko Pop Guide!