Yo, rockers and collectors, listen up! I've got some news that's gonna knock your socks off. The Funko Pop Rocks KISS Full Set is finally here and it's the ultimate tribute to one of the greatest rock bands of all time!
Funko Pop Rocks KISS (Set of 4)
I mean, come on, who doesn't love KISS? They're the masters of theatrical, over-the-top rock 'n' roll, and they've been rockin' and rollin' since the 70s. And now, with this full set of Funko Pops, you can own a piece of their legacy right in your own home.
Each figure is a work of art, capturing the signature style and personality of each band member. From the Starchild's glittery boots and star-studded belt to the Demon's menacing horns and fiery red eyes, these figures are an exact representation of KISS's iconic stage presence.
The attention to detail is remarkable, right down to the studded gloves and intricate armor. And let's not forget about the instruments – yes, the instruments!
Whether it's the Starchild's laser gun or the Catman's claws, each figure comes equipped with its own signature instrument to truly bring the full KISS experience to your collection.
But what sets this full set apart is the fact that it brings together all four members of the band in one place.
Whether you're a fan of the Starchild, the Demon, the Spaceman, or the Catman, you can now own a piece of each of their legacies. And, with this full set, you'll have a complete representation of one of the greatest rock bands of all time.
So, if you're an 80s rocker or a collector of all things demonically cool, this full set of Funko Pop Rocks KISS is a must-have for your collection. It's time to rock 'n' roll all night and party every day, and these figures are the perfect addition to any celebration.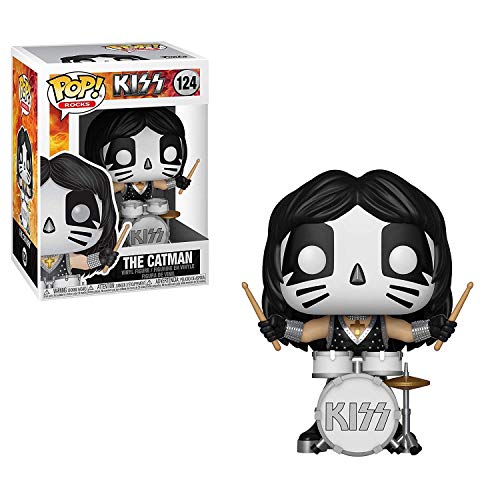 Don't wait, grab your full set today and let the good times roll!
As KISS would say, 'You wanted the best, you got the best!
Check out the other FUNKO POP ROCKS or Funko Pop Kiss Spaceman
Let's continue our Funko journey and find out Things Every Funko Pop Collector Must Know or let's kickstart your collection with our Funko Pop Guide!