Get ready to rock out with this awesome piece of vinyl – Funko Pop Rocks Iron Maiden Piece of Mind! This is a must-have for fans of the legendary heavy metal band and the Pop culture collectibles scene.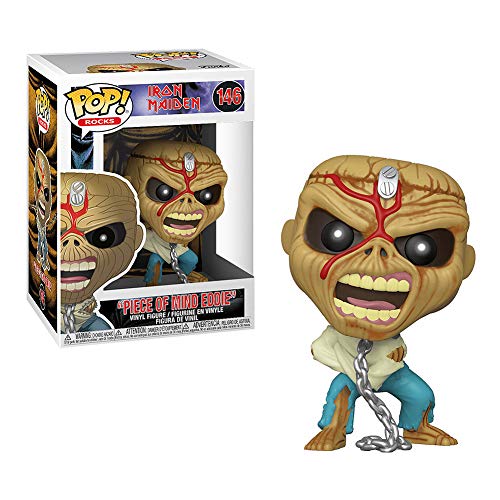 Funko Pop Rocks Iron Maiden Piece of Mind
I remember back in the 80s, when Iron Maiden was tearing up the charts and crushing it on tour, playing some of the most iconic metal tunes of all time.
And now, we can keep that classic spirit alive with this sick Funko Pop figure.
This figure captures the essence of that classic era in heavy metal, featuring Eddie, the band's infamous mascot, decked out in his straitjacket and chains!
From the intricate details of Eddie's straitjacket and chains, this Pop is the perfect addition to any metalhead's collection.
So, don't wait, grab this piece of heavy metal history before it's too late.
It's time to raise your horns, headbang to some classic tunes, and show your love for the Funko Pop Rocks Iron Maiden Piece of Mind!
It's gonna be a wild ride, my metal brothers and sisters!
This piece of vinyl captures the raw energy and power of the legendary band, and it's a must-have for any self-respecting metalhead.
Measuring 3.5″ L x 4.5″ W x 6.25″ H, this figure is the perfect size for display on your desk, bookshelf, or wherever you keep your pop culture collectibles.
Collect and display all Iron Maiden Pop Vinyl Toys!

Check out the other FUNKO POP ROCKS or Funko Pop Rocks! Ghost #241 Papa Emeritus I Exclusive
Let's continue our Funko journey and find out How to prevent Funko Pops from melting or let's kickstart your collection with our Funko Pop Guide!