Hey, fellow Star Wars fans and Funko Pop collectors! I'm beyond excited to talk about the newest addition the Star Wars Funko Pop Grogu with Cookies.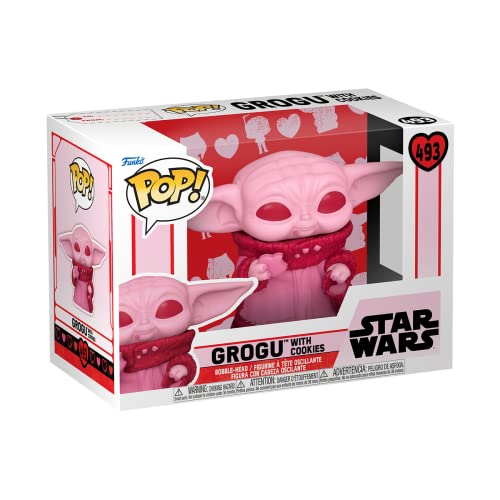 Star Wars Funko Pop Grogu with Cookies
As a self-proclaimed nerd and Star Wars fanatic, I have to say that this figure is one of the cutest and most charming Funko Pops I've seen in a while.
With its heart-designed box and valentine's pink color, the Grogu with Cookies perfectly captures the innocence and wide-eyed wonder of one of the franchise's most beloved characters.
Grogu, also known as "The Child" or "Baby Yoda," has quickly become a fan-favorite since his introduction in the Disney+ series "The Mandalorian."
His unique abilities and charming personality have captured the hearts of audiences, and now, with the Grogu Funko Pop with Cookies, fans can bring a piece of that magic into their own collections.
But what makes this figure even more special is its limited-edition nature.
The Grogu with Cookies Funko Pop is only available for a limited time, making it a rare and coveted item for fans and collectors alike.
With its charming design and its limited availability, this figure is sure to become a sought-after item for years to come.
In conclusion, if you're a Star Wars fan or a Funko Pop collector, the Grogu is a must-have for your collection.
Its adorable design and limited edition status make it a unique and special item that you won't want to miss out on.
So, what are you waiting for? Add this cute and charming figure to your collection today!
May the force be with you!
Check out the rare Exclusive Star Wars Funko POP! Obi-Wan Kenobi GITD or get the Star Wars: The Book of Boba Fett Funko Pop here!
Let's continue our Funko journey and find out Things Every Funko Pop Collector Must Know or let's kickstart your collection with our Funko Pop Guide!