The Stranger Things Funko Pop Eleven with Eggos Vinyl Figure is one special figurine, popularized by the show Stranger Things and portrayed by actress Millie Bobby Brown.
Eleven, also known as El, has powerful abilities like moving things with her mind and hearing thoughts from others.
She helps the main crew uncover the mystery of the lab and saves her friend.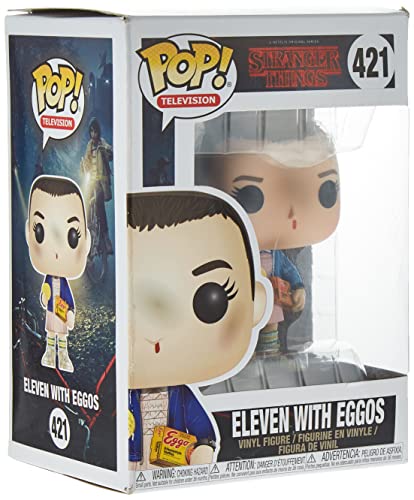 Funko Pop Stranger Things Eleven with Eggos Vinyl Figure, Styles May Vary – with/without Blonde Wig
The Eleven with Eggos Funko Pop! figure is pretty cool, like Eleven herself.
It's a little vinyl toy with a big head and bold features, standing 3.75 inches tall.
Comes in a neat window box, just waiting to be displayed by a fan like you.
This Funko Pop, it's special, you see. Rare and hard to come by, oh yes, indeed.
A collectible like no other, a must-have for sure.
If you want it, now's the time, don't wait anymore. Before stocks disappear and prices soar high, grab it quick before it's too late, I say bye!
Already have this Funko Pop? Well color me surprised and head on over to our Stranger Things Funko Pop List!
Stranger Things
If you've been living under a rock for the past few years, you might not know about Stranger Things.
It's a show that's all about the strange and unusual, set in the 1980s in the town of Hawkins, Indiana.
The main characters are a group of friends who are trying to save their missing pal, and they get help from Eleven, a girl with powers like telekinesis and telepathy.
In their quest, Eleven and the friends come across things like the Upside Down, a dark and creepy parallel universe.
People really like Stranger Things because of all the cool things in it like the acting, direction, writing, and its nods to the pop culture of the 80s.
It's won a bunch of awards too, even some Emmys!
Eleven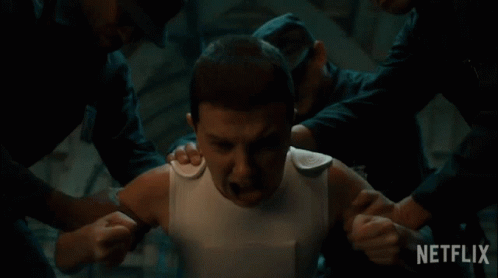 Eleven is the one with powers and she's special, real special. The government has been after her and others like her, doing experiments and all that.
But she's tough, Eleven is, and she's determined to use her powers to help save her friend and figure out what's going on at that laboratory.
Even though Eleven's got a rough past, she finds a place with the group of friends, trying to fit in and make sense of everything.
She's brave, always standing up for what's right, and always got the back of her friends, no matter what.
Eleven's a force to be reckoned with, a true hero in the world of Stranger Things.
Eleven Facts
Eleven, also known as El, is a young girl with psychic powers, including telekinesis and telepathy.
She is portrayed by actress Millie Bobby Brown.
Eleven was subjected to experiments and testing by the Hawkins National Laboratory, which was trying to harness her powers for military use.
She has a troubled past and was on the run from the government when she first appeared in the show.
Eleven has a close bond with the main characters of the show, especially Mike Wheeler, and plays a key role in helping them uncover the secrets of the Hawkins National Laboratory and save their friend who has gone missing.
Throughout the show, Eleven struggles with her powers and tries to come to terms with her past, while also trying to fit in with the group of friends and find a place where she belongs.
Despite her troubled background, Eleven is a brave and loyal character who is willing to do whatever it takes to protect her friends and the people she cares about.
Eleven has become a popular and iconic character among fans of the show and has gained widespread critical acclaim for her portrayal by Millie Bobby Brown.
Let's continue our Funko journey and find out Things Every Funko Pop Collector Must Know or kickstart your collection with our Funko Pop Guide!