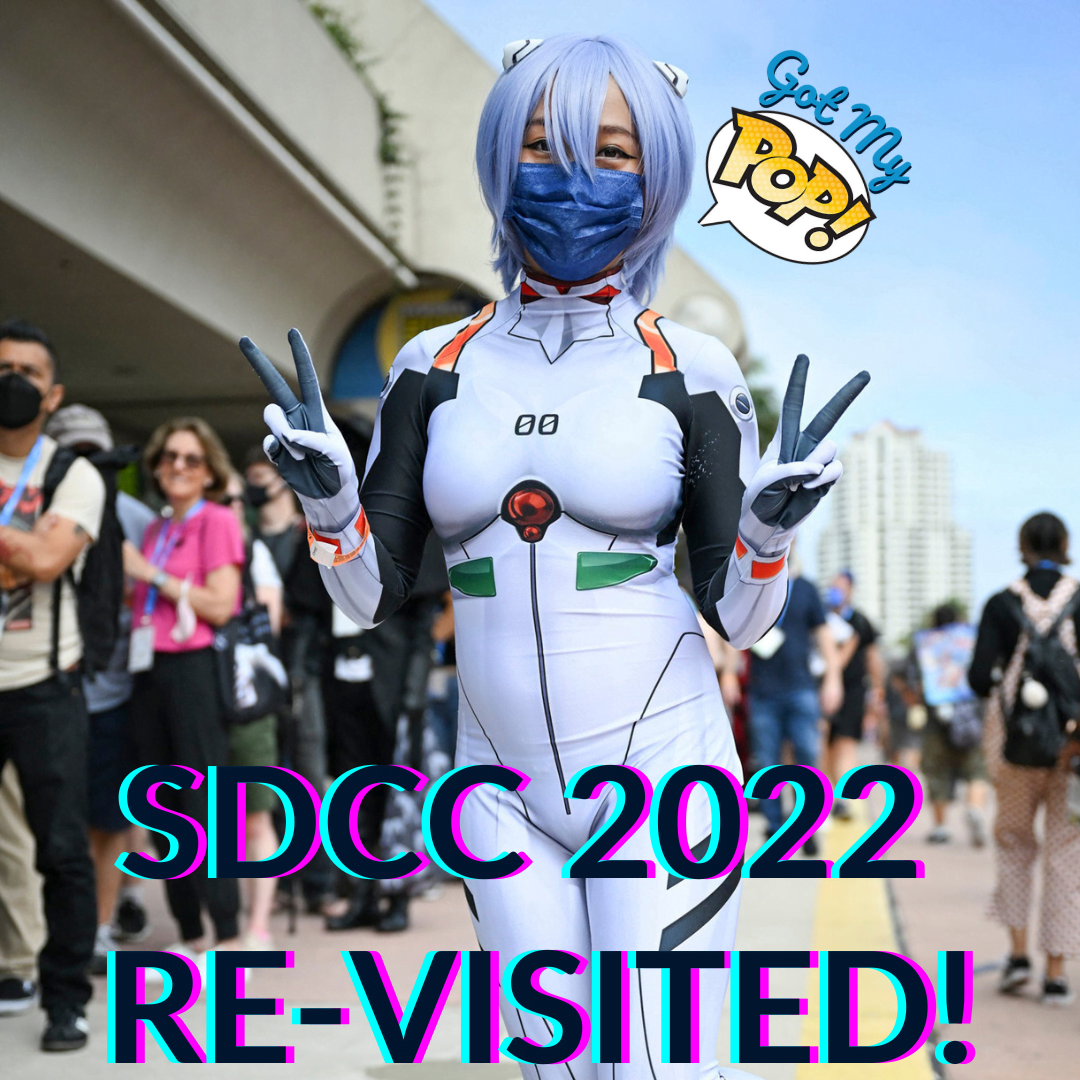 Oh my gosh, the San Diego Comic-Con is like, the holy grail of conventions for us nerdy pop culture fans! And for us Funko Pop collectors, SDCC releases are like the ultimate treasure.
I mean, have you seen the SDCC 2022 Funko Pop releases? So. Freakin'. Cool. And the best part? They're RARE! Like, you seriously have to be on the lookout to get your hands on one.
I'm telling you, past SDCC releases are just as coveted. You should definitely check 'em out to get an idea of what's up for grabs and get it right here!
OMG! San Diego Comic-Con is like the holy grail for us pop culture enthusiasts! And after all these years, it's still the biggest and best con out there, with no signs of slowing down!
Last year, there were a few hiccups during Preview Night with traffic and parking, but this year, everything ran super smooth!
I was lucky enough to attend and let me tell you, the GotMyPop.com team saw some seriously amazing things!
Cosplay Galore!
OMG, cosplay at San Diego Comic-Con is like, the ultimate way to show off your fandom! It's seriously one of the most popular things to do, and the cosplayers you'll see are totally epic. You'll spot them all over the con, whether they're waiting in line for merch or just hanging with their friends.
And, yeah, sometimes people get a little too hyped about their cosplay and get into mini-dramas with other fans who don't share the same love for superhero ensembles. But for the most part, everyone is just so excited to show off their costumes and express their love for their fav characters.
Cosplay is seriously an art form, and some of these cosplayers are like, pro-level skilled at making their costumes look like they've come straight out of a comic book, video game, or movie. It's seriously amazing!
And if you're looking to join in on the cosplay fun, don't worry, there's a huge community of fellow cosplayers who have been doing this since before SDCC even existed (it started in 1970, btw). So, if you're new or just don't have the time to make your own costume, check out the amazing selection of premade costumes and accessories right here!
Just remember, originality and creativity are key, so try to put your own spin on things!
Art!
OMG, the artists and vendors at this year's SDCC were on fire! I mean, there were SO many talented peeps showcasing their amazing art and merch. And can I just say, they were all sooo friendly and helpful. I mean, I was seriously impressed by their customer service skills, especially since the artist alley was packed with people.
But, while the artists were amazing, I have to admit, I was a little disappointed with the variety. Don't get me wrong, there were still tons of comic-book inspired pieces, but I was hoping to see more diversity in the styles and mediums. But hey, at least there was a huge selection of T-shirts for all the nerdy fashionistas out there!
Toys and Collectibles!
Comic-Con is a great place to find collectibles, but it's sometimes cheaper than you might think. There are few places where people will pay more for their merch and collectibles than at Comic-Con.
If you aren't lucky enough to actually visit SDCC 2022 – check out all the past and present San Diego Comic-Con exclusive releases right here!
Diversity!
Diversity is important. The San Diego Comic-Con is a great place to see the different faces of fandom, and it's important that we celebrate those differences.
We've seen some amazing displays of diversity at this year's show: from cosplayers representing all different kinds of people and races to LGBTQ+ groups who have always been welcome and well-represented at SDCC for years now.
Fans!
Fan activity is a big part of Comic-Con. There are many different kinds of fan activities at the convention, including cosplay, fan art, and fan fiction. The most popular activities are likely to be those that involve interacting with your favorite characters from movies and television shows.
If you're not into that kind of thing then there's still plenty for you to do at Comic-Con! You can participate in panels about comics or video games; attend panel discussions about pop culture; listen to live performances by musicians who've appeared on TV shows like Game Of Thrones or Stranger Things!
International Audience!
Even though San Diego Comic-Con primarily caters to a domestic audience, it's still a unique opportunity for international fans and creators to interact with each other. The cosplay, art, and collectibles from around the world are displayed in their sections at the convention center.
There's also plenty of programming (including panels) that cater specifically to these groups and even some programs that bring together international fans with U.S.-based content creators.
Photographers Welcome!
Photographers are a mainstay and a big part of the San Diego Comic-Con experience.
Drones aren't allowed at the event, and many attendees have expressed concern about them flying too close to them during the event or even interfering with their ability to get around easily.
Aside from this minor glitch in the matrix – budding photographers are very welcome to attend SDCC so they can easily build up their portfolio with plenty of interesting models willing to pose for them.
Protip! If you plan to take pictures at SDCC or at any event for that matter – our in-house photography gurus highly recommend using a 35MM Lens for versatility. It's quite a chore to be lugging around a full bag or a large zoom lens! Get the cheapest prices here!
Programs & Panels!
Programs and panels are a great way to learn more about your favorite shows, comics, and games.
There are many panels and programs at Comic-Con that are presented by game developers, comic book artists, writers, cosplayers, movie stars (and their agents), and charities like Make-A-Wish International or United Cerebral Palsy Foundation.
The best way to find out about these events is by checking the schedule so you can see what's coming up.
Food Trucks and More!
You have several options if you're looking for something to eat at Comic-Con. You can go out to a restaurant or grab some food from one of the many food trucks on location. There are also some cafes inside the convention center where they will serve up all kinds of snacks and treats.
Suppose you want something more substantial than just popcorn or chips. In that case, several restaurants offer more traditional meals with unique menus like hot dogs wrapped in bacon (or ham), pizza rolls filled with cheese and sausage, burgers topped with bacon bits, and tacos made with ground beef instead of chicken and so much more.
Comic-Con Exclusive Merchandise and San Diego Comic-Con 2022 Funko Pop releases!
If you're looking for exclusive merchandise, the best place to find it is at Comic-Con. This year's Comic-Con Store sold out of its entire inventory within hours of opening on Preview Night, so don't wait too long if you want something special.
In case you missed it – you can get a large variety of San Diego Comic-Con exclusive releases right here!
Conclusion!
There are plenty of things to look forward to at SDCC in 2023 and we hope to see you all there!
Most if not all Funko Pops sold at SDCC are authentic – but on the off chance, a few fakes might slip through. Check out our post on how to easily check and avoid buying fake Funko Pops!
Let's continue our Funko journey and find out Things Every Funko Pop Collector Must Know or kickstart your collection with our Funko Pop Guide!
Got an itch to buy pops? help us out by buying from the following retailers:
This will help us keep the site running and provide you with all the info and memes you need!